Make sure to Grab the Featured Button and wear it proudly…you deserve it :)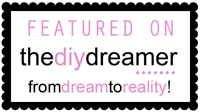 From Dream To Reality is sponsored by:
Let's start this week's From Dream To Reality!
Rules:
- I ask that whatever you post is made by you.
- You must link directly to the specific post.
- Do NOT link posts that are linked to your linky party or your shop. 
This is not cool!
Let me repeat this…
DO NOT LINK POSTS WITH A LINKY PARTY ATTACHED
* PLEASE visit other links… they appreciate receiving comments as much as you do.*


Hi there! Are you new to The DIY Dreamer? If so, WELCOME!!
I'm Christine and I'm so very HAPPY you stopped in.
You can subscribe to receive updates via RSS Feed or Email and you also get a free gift when you sign up!
A great way to interact with me is via Facebook, Pinterest, Twitter and Google+.
I'm looking forward to getting to know you.