Link Party – From Dream To Reality #67 is happening RIGHT NOW!!!! YAY!! I hope you enjoy the party as much as I do! I do have a favor to ask though? I've noticed that some of you link and dash. :( This makes me sad. I really wish you would stick around a little and visit other link ups. I realize you might not have enough time to go through them all (obviously) but it would be great if you visited a few. Everyone loves comments and everyone loves getting traffic on their sites. So, lets work together to make this party even better!
Ok, enough "work" stuff. Did you see the features from last week's party? They are AWESOME! You must check them out.. you might have been featured too!
Who loves Strawberries?
Lots of Strawberry Inspiration!
Oh, and have you seen what my little ladies made?
How about we get this party started?!?
From Dream To Reality is sponsored by:
BRAG ABOUT IT
Hand Stamped Graduation Necklace – The Graduate

"Hand Stamped and Custom Jewelry.
Where ONE OF A KIND Jewelry is CREATED FOR YOU!"
Let's start this week's From Dream To Reality!
From Dream To Reality #67 Linky Party
Rules:
– I ask that whatever you post is made by you.
– You must link directly to the specific post.
– Do NOT link posts that are linked to your linky party, your shop or a giveaway.
If you do, YOUR LINK WILL BE DELETED
*~* PLEASE visit other links… they appreciate receiving comments as much as you do.*~*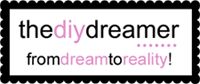 <div align="center"><a href="https://thediydreamer.com" title="The DIY Dreamer"><img src="https://i35.photobucket.com/albums/d189/lexieex/The%20DIY%20Dreamer/DIYLinkPartyButton.png" alt="The DIY Dreamer" style="border:none;" /></a></div>