Yay!! It's party time! Hope you are ready to join the party and show me what you have created! Don't forget to swing by this morning's feature post, maybe you were featured!
LET'S PARTY!!!
Show off your creations – From Dream To Reality #90
Rules:
– I ask that whatever you post is made by you.
– You must link directly to the specific post.
– Do NOT link posts that are linked to your linky party, your shop or a giveaway.
If you do, YOUR LINK WILL BE DELETED
*~* PLEASE  VISIT OTHER LINKS!! *~*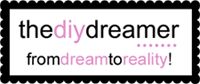 <div align="center"><a href="https://thediydreamer.com" target="_blank" rel="nofollow" title="The DIY Dreamer"><img src="https://i35.photobucket.com/albums/d189/lexieex/The%20DIY%20Dreamer/DIYLinkPartyButton.png" alt="The DIY Dreamer" style="border:none;" /></a></div>