From Dream To Reality #61 is LIVE!!!! I'm really excited to see what you're going to share this week! I love how creative you all are, you truly inspire me! Don't forget to check out the Features Post to see if you were featured. Lots of great creations!
Before we start the party, I really want to show off Gabrielle's Bracelet Tutorial she created last week. I'm so proud of her, I just LOVE the Chunky Bracelets she made. She made one for herself and one for Emanuelle. I would love it if you took a little time to check it out and perhaps leave her a little comment or/and feel free to share on Pinterest.
How about we get this party started?!?
From Dream To Reality is sponsored by:
BRAG ABOUT IT
Silk Ribbon Wrap Bracelet – To The Moon & Back

"Hand Stamped and Custom Jewelry.
Where ONE OF A KIND Jewelry is CREATED FOR YOU!"
Let's start this week's From Dream To Reality!
From Dream To Reality #61
Rules:
– I ask that whatever you post is made by you.
– You must link directly to the specific post.
– Do NOT link posts that are linked to your linky party, your shop or a giveaway.
If you do, YOUR LINK WILL BE DELETED
*~* PLEASE visit other links… they appreciate receiving comments as much as you do.*~*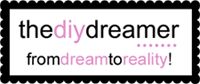 <div align="center"><a href="https://thediydreamer.com" title="The DIY Dreamer"><img src="https://i35.photobucket.com/albums/d189/lexieex/The%20DIY%20Dreamer/DIYLinkPartyButton.png" alt="The DIY Dreamer" style="border:none;" /></a></div>