YAY!!!!  The DIY Dreamer just turned 1 this month!!
I can't believe how fast the year has gone.  I would like to thank EVERYONE who has helped me make The DIY Dreamer everything I dreamed it to be.  
To Celebrate this AWESOME milestone.. I will be hosting 3 Group Giveaways!! 
There's a total of 28 prizes which means 28 winners!! YAY!!
Lets start with Part 1 which has 8 wonderful prizes.
*****
*****
*****
Blog  ~  Facebook  ~  Twitter


*****
*****
*****
*****
*****
Are you EXCITED about the chance of winning one of these prizes??
You can show your excitement by displaying the 1st Birthday Celebration Button on your blog.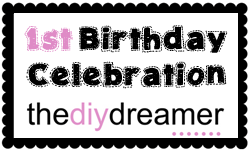 Here's how you can enter:
Have a GREAT day!!