Building Bluebird bird houses is a great afternoon project. I know because my daughters spent a Saturday afternoon building some with my Dad. They had so much fun using tools with their grand-father. I say they, but I think Emanuelle enjoyed it more. haha
About 25 years ago, my Dad built several bluebird bird houses for my grand-parents. They live on a farm and really enjoy having bluebirds nesting on their property. They have them attached to fence posts all the way up their very long driveway. Skip forward to now, the bird houses have started to fall apart and it's time to make new ones. As soon as my daughters heard my Dad mention that he was going to build bird houses, they made sure to tell him that they wanted to help!
The bluebird bird house plans come from a book that my Dad has owned for as long as I can remember. If you want actual plans and dimensions, there are a lot available online, search for bluebird bird house plans. Many offer plans for one board that you make a few cuts in, and voilà.. you have all the pieces you need. This post contains some affiliate links for your convenience. Click here to read my full disclosure policy.
Building Bluebird Bird Houses
My Dad started off by taking out old barn wood and cutting them down to birdhouse size. Bluebirds like nesting in bird houses in natural tones.
Once all the side pieces were cut, Gabrielle and Emanuelle pre-assembled the bird houses to make sure everything fit together nicely. The girls loved that it was like doing a puzzle. hehe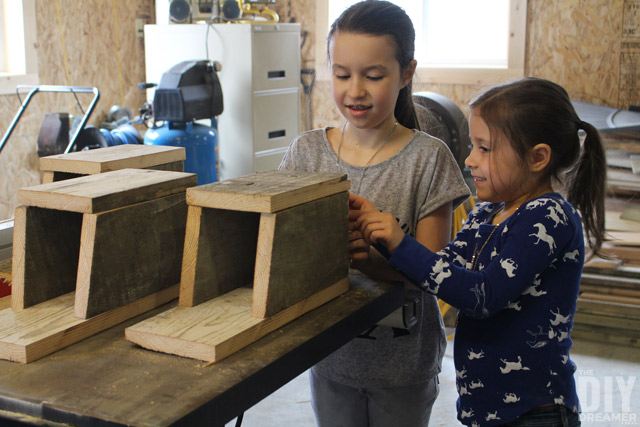 Next it was time to pre-drill holes (pilot holes) with the drill press in order to assemble the bird houses with screws.
As soon as Emanuelle saw her grand-father using the drill press, she wanted in on the action. Who could blame her? A drill press is a pretty neat tool!
Once the sides and the bottoms were attached, my Dad and Emanuelle used the drill press to drill holes for the bluebirds to enter the bird houses.
The finish the bird houses, my Dad cut pieces of wood to make the roofs. Once the pieces were cut, they drilled pilot holes in order to attach the roofs onto the bird houses. And of course, they drilled a little hole at the top in order to easily screw it onto a fence post.
Emanuelle wanted to use the drill too. Emanuelle's hair kept falling in her face, Grandpa made sure to hold it back so she could see what she was doing. haha They did a great job, didn't they?
Bluebird Houses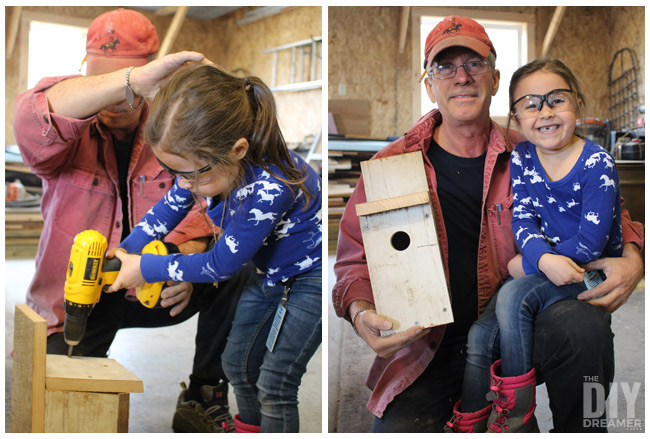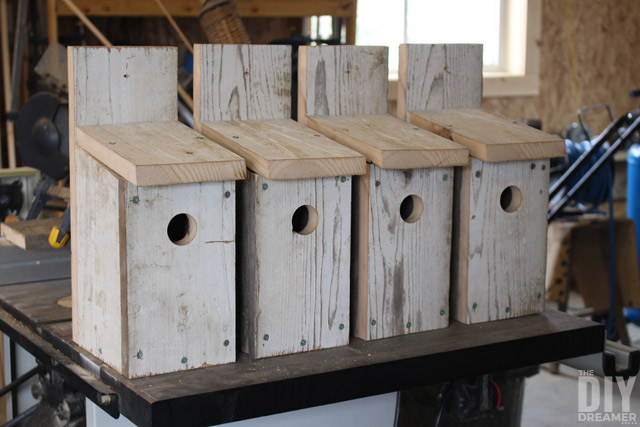 I'll make sure to take photos of them hanging on the fence posts next time I go up, and I'll share them with you. I know Emanuelle is really looking forward to seeing bluebirds enjoying them.
Want more bird house inspiration?
Have you made bird houses or bird feeders before?
Do your children like to participate when you build stuff?
P.S. If you liked the bluebird bird houses, please feel free to PIN and/or Share with your friends. :)

P.S. I'll be linking this to these parties.