Is your outdoor fireplace full of rust and is far from looking good? Mine was in the same condition and we were able to easily make it look great again with only a few steps!
A few years ago, my husband and I treated ourselves to an outdoor fireplace as a wedding anniversary gift. We had saved up for it and bought it from a local welder who made fireplaces. I can't quite remember what we paid, but it wasn't cheap. We figured since we were paying more than we would if we bought it from a box store, that we were getting quality… and of course encouraging a local business.
Anyways, we were so excited to use it for the first time. It was really nice to sit in our backyard and enjoy a nice fire. The next morning, I was stunned to see that part of the fireplace started showing rust. Like.. WHAT? It's new… why rust? I called the welder asking about it, and he told me that all fireplaces will rust after use. Euhhh…. seriously?? I had no idea. Now, is it true? Or was he just saying that to cover his butt? No idea…
We continued to use our outdoor fireplace regardless of the rust that started to appear more and more throughout the years. So much rust that we actually stopped storing it in the garage during the winter. hehe
See how bad it looked: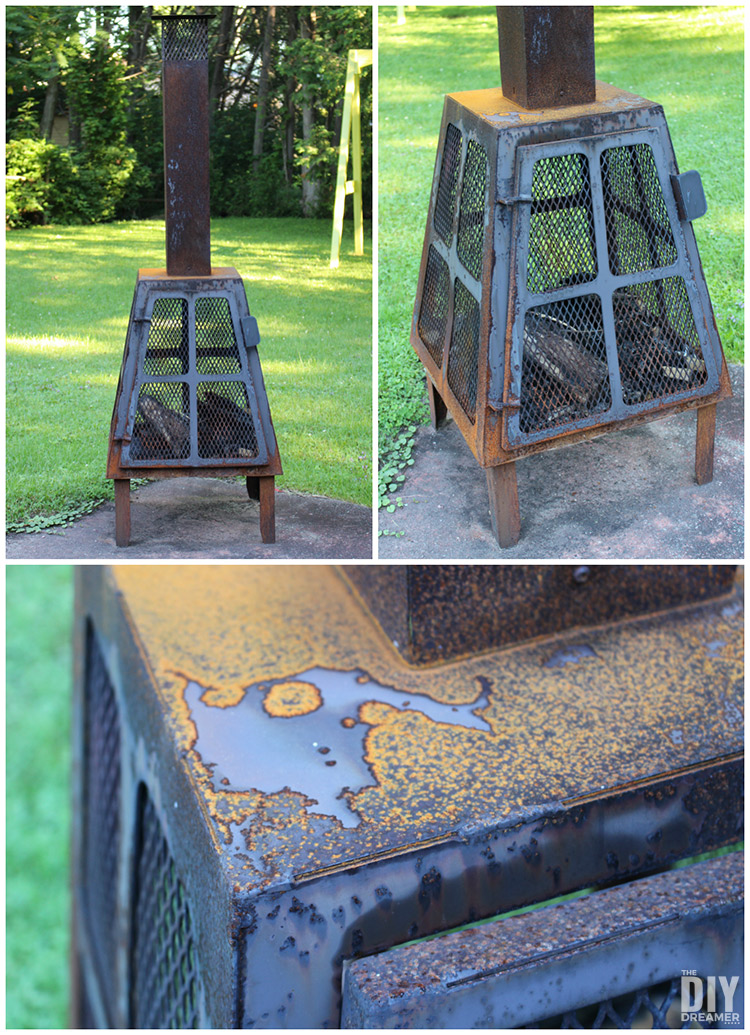 A few weeks ago we were at a hardware store when I came across a spray paint display. I was looking at all the wonderful colors and then I noticed something special! Black Spray Paint that can be used on High Heat pieces!! WHAT?! A grabbed a can and told my husband I was going to give some love to our outdoor fireplace!
And this is how our outdoor fireplace looks like now:
Awesome, right?!
This post contains some affiliate links for your convenience (which means if you make a purchase after clicking a link I will earn a small commission which helps keep my blog up and running but it won't cost you a penny more). Click here to read my full disclosure policy.
How to Paint an Outdoor Fireplace
Supplies:
Rag (something to remove dust)
Instructions:
Step 1: We started off by removing loose rust from the fireplace with the help of a steel wire brush. Note: We could have used a grinder to remove the rust, but we opted not to do that this time in order to keep the texture.
Step 2: We used a rag to dust the fireplace.
Step 3: Following the instructions on the spray paint can, we applied paint to the outdoor fireplace.
And voilà, finished!
It looks soooo good!! I just realized that the sun was setting as I took the above photo, it's sort of giving the fireplace a shade of red, but it's completely black no red. I'll take another photo soon to show you!
Rusty Outdoor Fireplace
Do you have a rusty outdoor fireplace or fire pit (some fire pits have covers)? Is it driving you nuts looking at it? I was just getting so annoyed each time I looked at our rusty fireplace, I'm so glad we painted it! I'm assuming I will have to paint it once a year to keep it looking good, but I don't mind as it's so quick and easy to do!
Even my daughters love how it looks now, so much so that they have setup their Adirondack chairs right in front of it. hehe I must admit, I would have done the same if I would have had my own Adirondack chair! hehe
Seriously though, isn't neat how paint can transform old things into new looking things? Even a Swing Set can look new again with paint.
P.S. Since our outdoor fireplace is looking great again, we will be storing in the garage over the winter! hehe
Have a BEAUTIFUL day!

P.S. I'll be linking to these Parties.