I completed my very first real sewing project! YAY!! I'm so excited! Back in December 2012 my mother-in-law bought me the most AWESOME gift ever: my very first sewing machine! Even though this awesome sewing machine had Confidence in its name, it still didn't give me confidence to sew! I've realized that my problem doesn't really apply to the sewing part, but mostly about cutting the fabric. I'm worried that I will cut the fabric wrong and then have to scrap it. Fabric is soooo pretty and it would just break my heart to have to scrap it. ANYWAYS, I'm hoping that after I have completed a couple of projects and get cut fabric more often, I'll stop stressing about it (that's what I'm hoping for). Enough rambling, I'm certain you'd love to see what I made!
My friend Sara from Craft Snob came by the blog a few months ago and shared a sewing tutorial for beginners: Triplet Tote Sewing Tutorial. She made the most gorgeous bag I have ever seen PLUS it has three sections! Her tutorial is absolutely wonderful and shares every single step.
As soon as Sara shared this sewing project, I knew that I wanted to do it. She did say it was a project for beginners, so it would be perfect for me. I started off my taking out the fabric that I wanted to use. I decided on Honeycomb Sun and Knotty Bois by Jay-Cyn Designs for Birch Fabrics, The Grove, Organic Canvas that I got from Fabricworm.
Once I had the fabric, I ironed it. Then it was time for the fun stuff, measuring and cutting! Ughhh… I took my time and tried not to worry about it too much. And guess what? I DID IT!! I cut the fabric correctly! I was so proud of my self! Making the handles was a lot of fun too! I thought it was going to be difficult, but it really was simple!
My all time favorite part was assembling the entire tote. Seeing the finished project was an incredible feeling… I DID IT! I was so proud of myself, in fact I still am!
Triplet Tote – Sewing 101 – Sewing for Beginners
Didn't it turn out AWESOME?! Are you as proud of me as I am of myself? hehe Would you like to see more photos of my bag? I just so happen to have more! :)

Don't forget, if you want to make one too, you can get the full tutorial here: Triplet Tote Tutorial
I also have an awesome Sewing 101 Guide that I'm certain you'll find very helpful:
Sewing 101 – Guide for beginners, like me…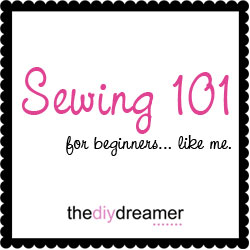 Have a FABULOUS day!!

P.S. I'll be linking to these Parties.