Share Your Projects at From Dream To Reality #71 is LIVE! I look forward to this day every week! I love "our" party and all the goodies each of you bring! You're all such a creative bunch. I LOVE IT! I featured 10 Rustic Projects earlier today, hope you take a few minutes to check them out.
Who loves Bees as a decor theme?
How about we get this party started?!?
From Dream To Reality is sponsored by:
BRAG ABOUT IT
Hand Stamped Jewelry – Tiny Stacker with Birthstone and Heart Charm

"Hand Stamped and Custom Jewelry.
Where ONE OF A KIND Jewelry is CREATED FOR YOU!"
Let's start this week's From Dream To Reality!
Share Your Projects- From Dream To Reality #71
Rules:
– I ask that whatever you post is made by you.
– You must link directly to the specific post.
– Do NOT link posts that are linked to your linky party, your shop or a giveaway.
If you do, YOUR LINK WILL BE DELETED
*~* PLEASE  VISIT OTHER LINKS!! *~*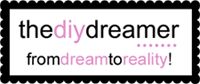 <div align="center"><a href="https://thediydreamer.com" title="The DIY Dreamer"><img src="https://i35.photobucket.com/albums/d189/lexieex/The%20DIY%20Dreamer/DIYLinkPartyButton.png" alt="The DIY Dreamer" style="border:none;" /></a></div>