This post is part of the YummyMummyClub.ca and Club House #SlowCookFun sponsored program. I received compensation as a thank-you for my participation. This post reflects my personal opinion about the information provided by the sponsors.
How to make decorative pencils. This is a great family friendly craft.
As most of you know, we LOVE crafting as a family.. even my husband joins in sometimes. We can spend an entire day just crafting and making a mess (a fun mess of course).
Crafting is fun, but even more fun when you can do it an entire day and not worry about supper. Lucky for me, I have a slow cooker and Club House Slow Cookers Seasoning Mixes that I can use to make meal time super easy.
Sunday morning when my daughters woke up, they asked if we could have a crafting day. We had spent Saturday running around, so I gladly said yes. I liked the idea of having a quiet day at home.
I took out my slow cooker, Club House Slow Cookers Seasoning Mix – Beef Dip, an onion and some beef. Placed them all in my slow cooker and voilà supper was prepared. EASY!
Look at this Family Friendly Craft we made:
Yes, we made super cute decorative pencils! Such an EASY craft and we had so much fun making them.
My daughters and I pulled out everything we might want to use to decorate the pencils and got crafting.
My husband even made some pencils too! He said it looked like fun and wanted to join in. The funny part is that the blinged out pencil is the one he made and also my daughters' favorite pencil. Hehe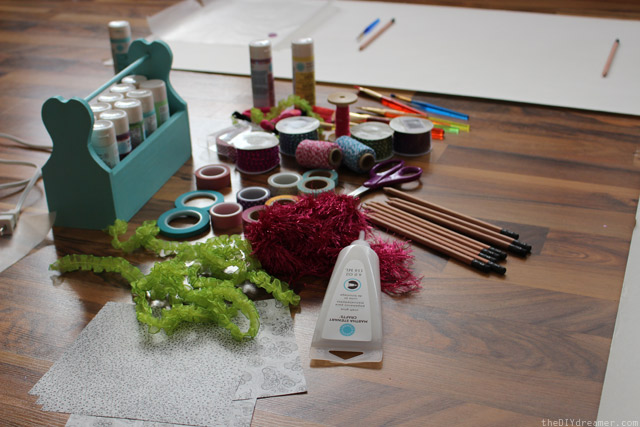 Decorative Pencils
Supplies:
Wood pencils
Washi tape
Decorative thread
Ribbon
Bakers' Twine
Jewels
Origami paper
Craft glue
Scissors
Paint
Glitter or glitter paint
Paint brushes
Hot glue gun
Instructions:
Step 1: Take out the pencils you want to decorate and just DECORATE and have fun!! Seriously, no instructions needed! Paint, stick and enjoy yourselves!
We made these pencils by wrapping various washi tapes around the pencils.
You can also wrap thin paper or origami paper around the pencil and use hot glue to adhere it.
We blinged out these pencils by sticking on jewels and decorative thread. We stuck everything on with hot glue.
The girls had sooooo much fun!!
Here we are with our decorative pencils!
I bet you'd like to see close-ups of our pencils,….
Didn't they turn out great? I can't get over how cute they are!
Gabrielle has already taken a couple of them to school, she's excited to write with them.
If you want more decorative pencil inspiration, check out our gold pencils.
After our day of crafting, we were exhausted. I'm happy that I didn't have to worry about dinner. YAY for slow cooker meals!
If you haven't tried Club House Slow Cookers Seasoning Mixes, you should! They are super yummy and come in various seasoning mixes; Beef Dip, Chicken Stew, BBQ Pork, Beef Stew, Beef Stroganoff, Caribbean Style Pot Roast, Italian Herb Chicken, Pot Roast and Sweet and Sour Chicken
I haven't tried them all, but the ones I have tried are delicious. I'm looking forward to trying the BBQ Pork!
Hope you're having a fabulous day!

If you need family-friendly activity inspiration, be sure to visit "Fun Ways to Spend Time with Your Family" for entertaining things you and your family can do together.