Tired of your wall light fixtures and you want to change them? I know how you feel and that's exactly why we decided to DIY Wood Wall Sconces!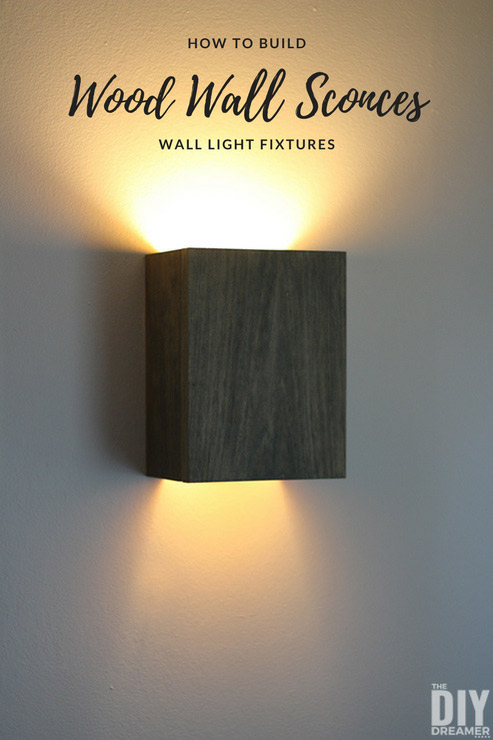 Our house was built in 1960's and the light fixtures throughout the house were original to the house when we moved in.
Our kitchen light was a gigantic glass ball that we actually converted into a Halloween decoration.
Well, the wall lights in our living were original too. We never liked them, but yet we never found anything we liked to replace them with, so we just put up with them.
A few months back we painted our living room and we decided it was time to do something with the lights.
We debated removing them completely to have a full wall without lights.
As we talked about removing them, somehow we got a little off topic and starting talking about how it would be nice to make something to cover them so that we could still use them when we needed them. We don't often turn them on, but they are useful when we require more light in the living room.
Anyways, there was talk about boxes, and how it wouldn't hurt to try….. so we tried… and this happened…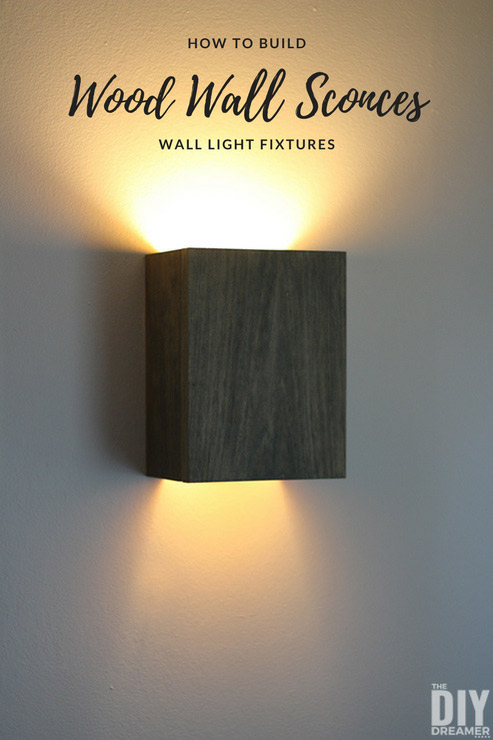 Aren't our DIY Wood Wall Sconces awesome?! I'm so HAPPY we decided to try to make them and that they turned out fabulous!
And they are SUPER EASY to make! The longest part is waiting for the stain to dry! Want to see how we built our wall sconces?
This post also contains some affiliate links for your convenience. Click here to read my full disclosure policy.
DIY Wood Wall Sconces
Supplies:
Instructions:
Step 1: We started by measuring around our lights. We measured the width, height, and depth making sure that our box wall sconces would cover the light completely and leave enough space for it to not touch the light at all. Obviously last thing we want is for the wood to touch the heat of the light-bulb!
Step 2: Using the measurements we had taken, we cut three pieces of wood. Two pieces for each side of the box and one piece for the front part.
Step 3: (Optional) We did not have metal keyhole hangers or mini photo frame hangers in stock, so we opted to make our own keyholes. We used our mini Kreg Jig Kit to make a slot on the top edge of the back of the side pieces. Then we used out Dremel to make a small slit at the top of the slot to allow the screw (we were going to use to hang the wall sconce) to slip inside the slot.
Step 4: We used some stain my sister lent us to stain our pieces. The stain is awesome and really makes wood look like barn wood!
Step 5: Next up, we used wood glue to fasten the pieces together. We also placed bricks over everything to help secure everything in place until the glue did its job.
Step 6: Time to hang them up!! We used our drill to make little holes in the wall and hammered wall plugs into the holes. We inserted screws and hung our DIY Wall Sconces!
Note: We did not touch any of the electrical stuff and we left all the hardware from the previous wall lights in place to make sure we had the correct spacing between our wall sconces and the light.
Want to see what we had before? You'll see that the wall sconces we built are so much nicer!
Before:

After:

(Our living room is a little bare right now, we still haven't put everything back in the living room since we painted. And I'm not sure what we are putting back on the walls. However I know I want to put my Diamond Shaped Wood and Mosaic Wall Art back up!)
So much better right?
DIY Wall Light Fixtures
Now that we have updated our wall light fixtures, we have them on all the time! They give such a nice glow at night, not too bright and not too dim. Another great thing is that if we need extra light, we can easily remove the wall sconces. Very useful!
I just love our DIY Wood Wall Sconces soooo much!! They were so easy to make too!!
If you liked this DIY project, please share it via Pinterest, Facebook, etc… Thank you!
Have a BEAUTIFUL day!

P.S. I'll be linking to these Parties.