Do you have a closet in your home that is big enough to transform into a more functional space? Maybe you can build closet shelving to make it more functional? Or maybe transform part of it as an office space? Learn how to transform your closet into a customizable closet allowing you to change it up as you please.
Build to Organize Challenge
Ever since we started working on Gabrielle's bedroom, Gabrielle has been asking us when we were going to start working on her closet. Her bedroom is on the smaller side but has a big two door closet.
For years we have told her that someday we would get rid of her dresser and modify her closet so that all her clothing could go in there. The time has finally come, let me explain why.
I will be collaborating for a year with a bunch of wonderful bloggers on DIY project challenges: At Home DIY. Every month we will have a new DIY challenge to work on. It's going to be so much fun! This month's challenge is: Build to Organize Challenge. Which is the perfect challenge to get us working on Gabrielle's closet!
How to make a customizable closet
The reason behind having a customizable closet is to be able to switch it up easily as the needs may change.
For example, right now we think it's best to get rid of Gabrielle's dresser and put all her clothes in the closet. Perhaps in a couple of years we will change our minds, so we rather not do anything permanent in her closet, especially since it's the biggest closet in our home.
In order to make a closet movable, everything needs to be easily modified: adapted for the current needs.
Here's the closet before we started working on it:
Nice doors right? You can see how they looked before we changed them up and before we painted her bedroom.
Like all the drawings on the walls? Ugh, I can't believe how many drawings are in that closet. We fixed it all up with some fresh paint and some beautiful wood planks. Stay tuned for a how to plank a closet blog post coming next week.
Adjustable closet rod
The first thing we did to make the closet customizable was to update the closet rod.

The current closet rod was 8' long and since it didn't have a support in the middle, it dropped in the middle.
We opted for an adjustable rod that goes from 4' to 8'. Which means we can opt to change it back to 8' easily.
We added a rod support bracket in the middle of the back wall.
We attached rod end brackets on each end of the closet side walls. This way if we want to fully extend the rod we can and we can also easily switch sides if we rather have the rod on the other side of the closet.
How to build closet shelving
To continue in the movable aspect of the closet, we opted to make open shelves to place clothes on. You could call it an open shelf bookcase even though we are using it for clothing. hehe
We wanted them to be open in order to allow as much light as possible to illuminate what is placed on the shelves.
We made sure to make them in a way that they can be moved in and out of the closet if necessary.
This post also contains some affiliate links for your convenience. Click here to read my full disclosure policy.
DIY Shelving for Closet
Supplies:
4x – 2×2's 8′ long – Pine
5x – 11/16x16x36″ Edge-Glued Panel "Hobbyboard" – Spruce *

*You can also buy longer boards and cut them to size.

1.25″ wood screws #8
1.50″ wood screws #8
Tools:
Cut List:
16x – 12″ long pieces out of the 2×2's
8x – 10.5″ long pieces out of the 2×2's
2x – 14″ long pieces out of the 2×2's
Instructions
Step 1: Using our Kreg Jig Mini and a small clamp we made pocket holes in the pieces we cut. We made 2 pockets on the 10.5″ pieces, one on each end. We made 2 pockets on the 12″ pieces, one on one end and one on the inside of the opposite end.
Step 2: With the help of our big clamp, we dry fitted our pieces together. We placed one 10.5″ piece with the pockets facing up in the middle and placed one 12″ on each end with the bottom pocket facing out (which means the top pocket is facing inwards).
Step 3: Time to attach the pieces together. Using our drill, we screwed in 1.25″ screws into the pockets of the 10.5″ piece. By doing so, we have a big U which we will be eventually attaching the big boards. We repeated this step until we had made 8 of them.
Step 4: We placed one big board face down onto a flat surface. We positioned a U on each end of the board leaving a 1 1/8″ edge.
Step 5: We attached the U's onto the board using 1.25″ screws into the bottom pockets of the 12″ pieces. You'll noticed that once attached and flipped over, they look like tables. We repeated this step until we had made 4.
Step 6: We took out the 14″ long pieces. We used a drill bit to make three vertical pockets into it, one on each end and one in the middle. To make sure we didn't drill too far, we put a piece of electric tape on the drill bit as a guide.
Step 7: We placed the last big board face down onto a flat surface. We put the 14″ long pieces on each end, 1 1/8″ edge. We attached them to the boards using 1.5″ screws, inserted into the pockets.
Step 8: Now the really fun part attaching them all together to make the shelving. Starting with the last board we worked on, we placed it in the closet. We placed over it one of the "tables". We made sure to place the feet 1 1/8″ from the edge of the bottom board. We used the drill to insert 1.25″ screws into the bottom pockets of the legs (they were the originally the top pockets). Once all four legs were attached, we repeated the steps until all of the tables were attached.
Voilà we have a beautiful 54″ (4.5′) shelving in the closet:
DIY Custom Closet Organizer
Isn't it beautiful? Gabrielle can't wait to empty her dresser and fill the closet shelving with her clothing. I can't wait to get the dresser out of her bedroom. hehe
We really love the natural tone of it with the natural plank wall. It adds a beautiful touch with the rest of the closet being white. Don't you agree?
If you like it as much as we do, feel free to pin it!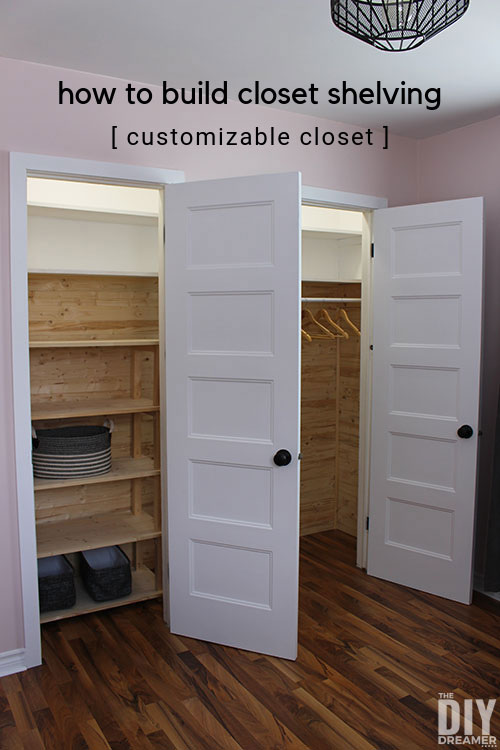 At Home DIY
Before we check out everyone's projects for this month, how about I share with you who is participating? :)
1905 Farmhouse, Abbots at Home, Bitterroot DIY, By Brittany Goldwyn, Creative Ramblings, Cribbs Style, Delicious & DIY, DIY Beautify, DIY Danielle, Dukes and Duchesses, Girl, Just DIY, Happily Ever After, Etc, Health, Home & Heart, House by the Bay Design, House on Longwood Lane, Just Measuring Up, Kenya Rae, Little Bits of Home, Living Letter Home, My Kitchen My Craft, Pinspired to DIY, Red Cottage Chronicles, Refashionably Late, Renovating Mapleson Manor, Savvy Apron, Shine Your Light, Shrimp Salad Circus, Songbird Blog, Southern Revivals, T.Moore Home, The DIY Dreamer, The DIY Village, The Frugal Homemaker, The Handyman's Daughter, Two Feet First, What Meegan Makes, Zucchini Sisters
Ready to see everyone's project for this month's theme: Build to Organize?
Hope you have enjoyed this project and all the great inspiration!
Have a GREAT weekend!