It's been crazy busy around here for the last few months: vacations, conferences, workshops, school, …. I'm happy that starting this week things will be getting back to normal. YAY! I've missed creating stuff to share with you!
To celebrate, let's start partying!! Oh but wait, did you see the features from last week's party? Once again I picked Halloween themed projects.
10 Halloween Crafts and Recipes
LET'S PARTY!!!
Show off your creations – From Dream To Reality #89
Rules:
– I ask that whatever you post is made by you.
– You must link directly to the specific post.
– Do NOT link posts that are linked to your linky party, your shop or a giveaway.
If you do, YOUR LINK WILL BE DELETED
*~* PLEASE  VISIT OTHER LINKS!! *~*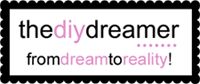 <div align="center"><a href="https://thediydreamer.com" target="_blank" rel="nofollow" title="The DIY Dreamer"><img src="https://i35.photobucket.com/albums/d189/lexieex/The%20DIY%20Dreamer/DIYLinkPartyButton.png" alt="The DIY Dreamer" style="border:none;" /></a></div>