Guess what? Today's the day that I share with you my Updated Back Porch!! YAY!! If you are observant, you might have noticed a sneak peak on Instagram.
After some sanding and painting… we are finally FINISHED!! And it looks GREAT!
It took longer than we expected with the crazy weather we had the last few months. If you didn't have a chance to read my before post you can check it out here: My 1960's House needs an Outdoor Makeover.
Back Porch Makeover Reveal

Doesn't it look GREAT?! I'm loving it so much!
So different from what it looked like before: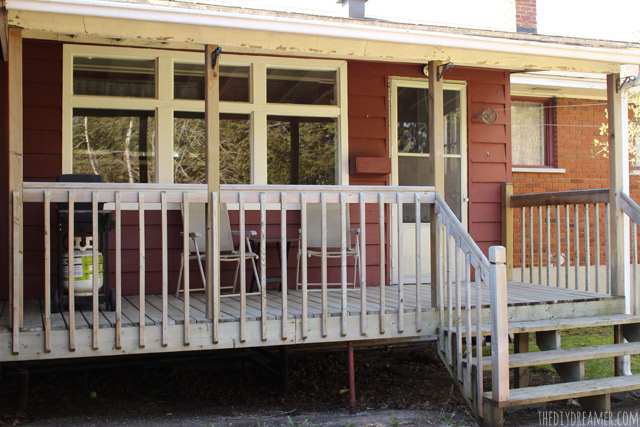 Yes, feel free to say YUCK! That's exactly how it looked before. In fact, that's EXACTLY how it looked when we bought our house. It wasn't a priority to fix up, so we left it as is.
As you can see it needed paint, and badly. The wall color had become faded, the ceiling paint was peeling off, and the floor, railing, posts, and steps were never painted.
Before we could start painting, we needed to do some prep work first. You can read about it here: painting preparations.
Once everything was ready, we started the fun part.. PAINTING!!
We started by painting the ceiling, window trim, door trim, railing, and posts. We painted them all in BEHR MARQUEE Exterior Satin Enamel – Stone Walkway.
Have I told you how much I LOVE painting with BEHR MARQUEE? The coverage is AWESOME! I find the paint a little thicker than regular paint, it sticks so well… and the best part… it's a paint and primer! SWEET!!
Once we were done painting everything we wanted in BEHR MARQUEE Stone Walkway, we moved onto our second color: BEHR MARQUEE Exterior Satin Enamel – Unpredictable Hue.
You have no idea how gratifying it was to paint over the faded red walls with a fresh new color. We knew instantly that it was going to give the porch a whole new look! LOVE!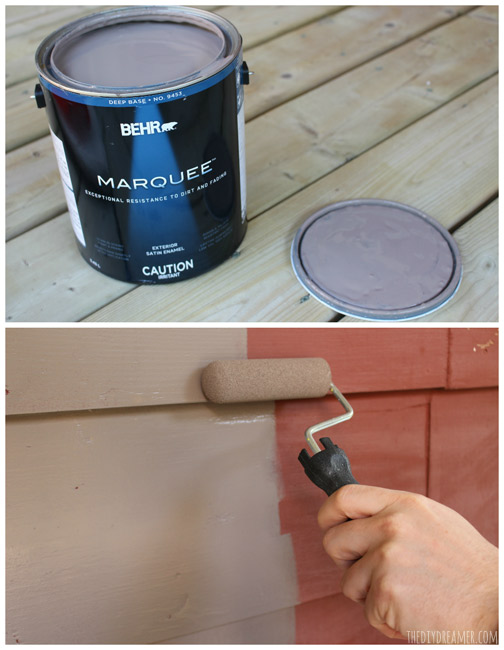 Next, time to paint the floor with BEHR PREMIUM DECKOVER – Boot Hill Grey.
Before we started painting the floor, we removed all the railing posts. Figured it would be quicker to remove them, than having to put painter's tape around each of them.
When the posts were removed, we started painting!
We used a paint brush to paint between the floor boards and used a paint roller to paint the top of them.
The texture is quite unique, it's thick and has a slip-resistant finish….. which I LOVE. The steps were always very slippery, which is no longer the case! AWESOME!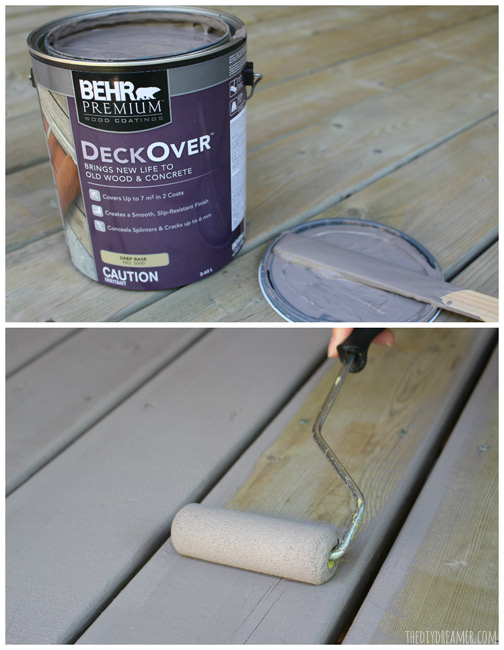 Once we were completely done painting the flooring and step, we re-installed the railing posts.
And voilà! We have a beautiful back porch! YAY!!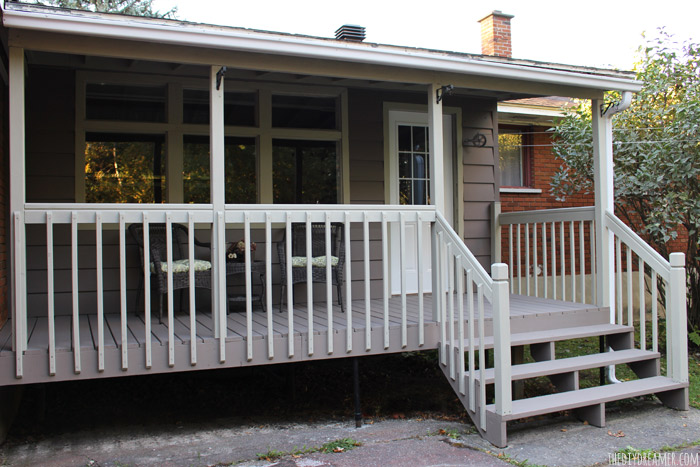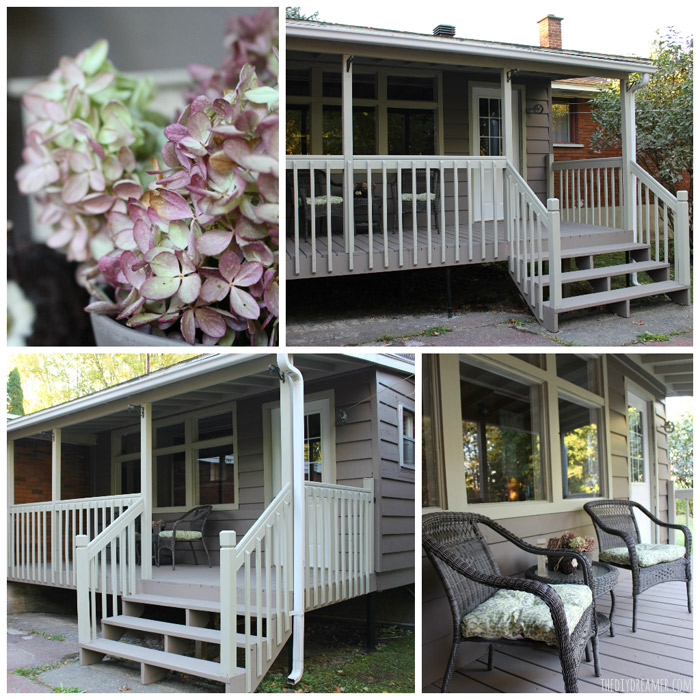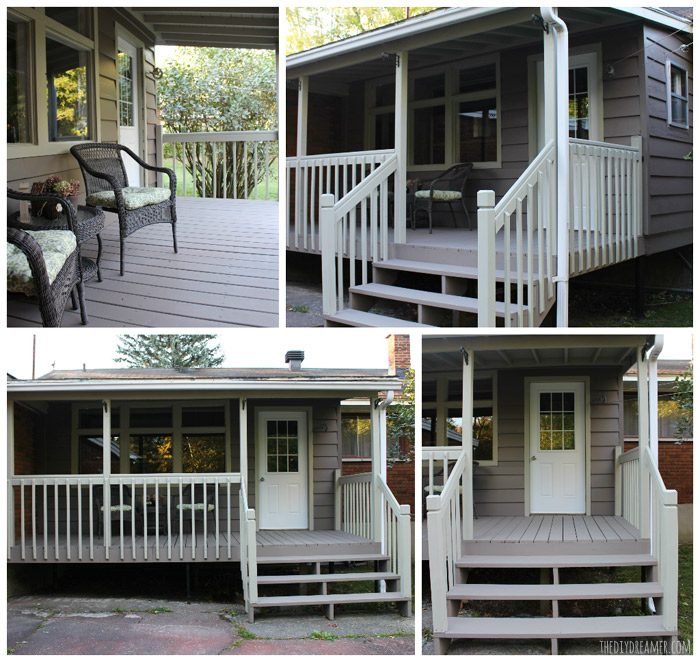 As you can see, I still need to beautify the space with some decor pieces. With Fall in full swing and Winter approaching, I figured it could wait until the Spring.
Speaking of Winter, I should probably remove the swings from the swing set.
When the warmer weather comes back, I will add flower baskets. I also want to get a carpet to put in-front of the door. Wouldn't that be nice?
We also didn't get the new BBQ we wanted to get: it's on our list of things for next year.
So, what do you think of my back porch? Pretty nice, right?!
UPDATE: Did you see the DIY Screen Door we built for our back porch?
It's totally worth checking out!
Here's a sneak peek of how it looks now with the DIY screen door: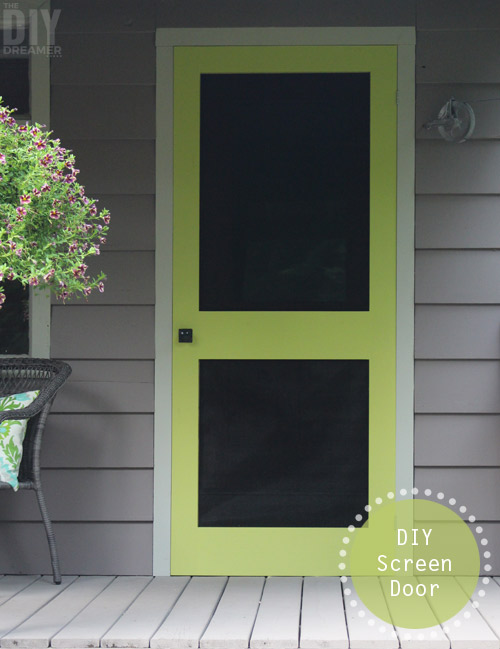 Have a fabulous day!

P.S. I'll be linking to these Parties.
Disclosure: A big THANK YOU to BEHR for supplying me with paint to complete this back porch makeover. As always, all opinions in this post are 100% my own.