You know how sometimes you are just so excited about a project and you just can't wait to get started? You start working on it right away. Once the project is finished you're so happy that it's everything you hoped it would be and more.  You're so proud of it and can't wait to show it to everyone?! Well.. I have a few of those projects and a couple of which are on this blog… I was so excited and caught up on working on them, that I did not take step by step photos.. OUPS!!
Here are two of the DIY projects I completed that I PROMISE to do step by step tutorials for you very soon!
How to make these DIY Projects – Tutorials coming soon!
DIY Bed Frame

DIY Bed Frame
This is the DIY Bed Frame Sébastien and I made for Emanuelle. It turned out really great and very sturdy! This is another project I did not take step by step ( how to) photos… oups!! (I did do a tutorial on the Shutter Headboard though.) But, I do have a reason though… since it was our first attempt at making a bed frame, we went with the flow and just winged it. HOWEVER, we will be making another bed frame this summer for Gabrielle and since we know what we are doing now… it will be super easy to do a tutorial for you!!
Jewelry Box – Jewelry Stand
Jewelry Box Stand
The Jewelry Box Stand is something I put together with my Dad and my hubby as a gift for Gabrielle a few years ago. It turned out absolutely beautiful, didn't it? I shared it on the blog in January of 2012. Since being published, I have received many emails requesting a step by step tutorial.  I am planning on making one for myself and one for Emanuelle. I will take photos of each step when I start working on them, I promise.
While you wait for these tutorials, perhaps you'd like to check these ones out in the meantime?
How to make a Shutter Headboard

How to paint a chair ~ How to reupholster a chair seat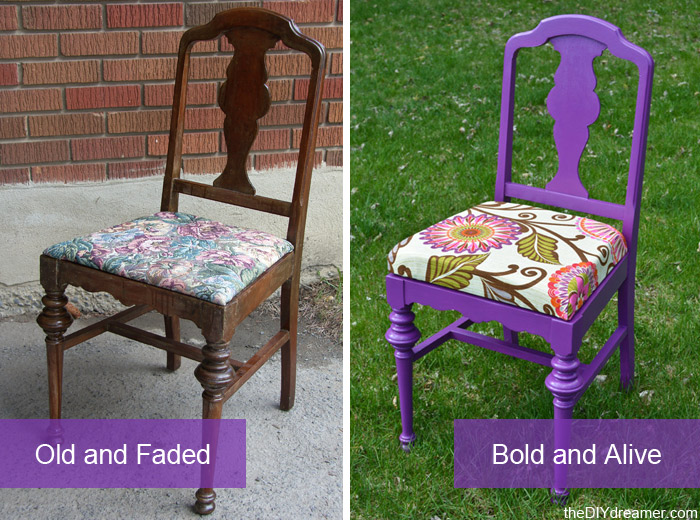 Oh and you will probably like my Pinterest boards, they have lots of tutorials!!
Visit The DIY Dreamer's profile on Pinterest.
What projects do you have completed and you wished you had taken photos of each step?
Come on.. I am sure I'm not the only one who has some?
Hope you have a great day and don't forget to stay tuned for the tutorials!!