Learn how to make a DIY wall mounted advent calendar that will be treasured by your family for many years.
I've been buying chocolate advent calendars for years, however I never display them because they are tacky.  
We usually hide them on top of the fridge and take them down each morning for the girls to open their special doors and then we place the calendars back in their hiding spot.
However, this year we decided to put and end to the chocolate advent calendars, instead… we created our very own Advent Calendar.
Oh and not just an advent calendar but a huge 4 feet wall mounted advent calendar.
UPDATE – We painted our kitchen and our Rustic Wall Mounted Advent Calendar looks so good!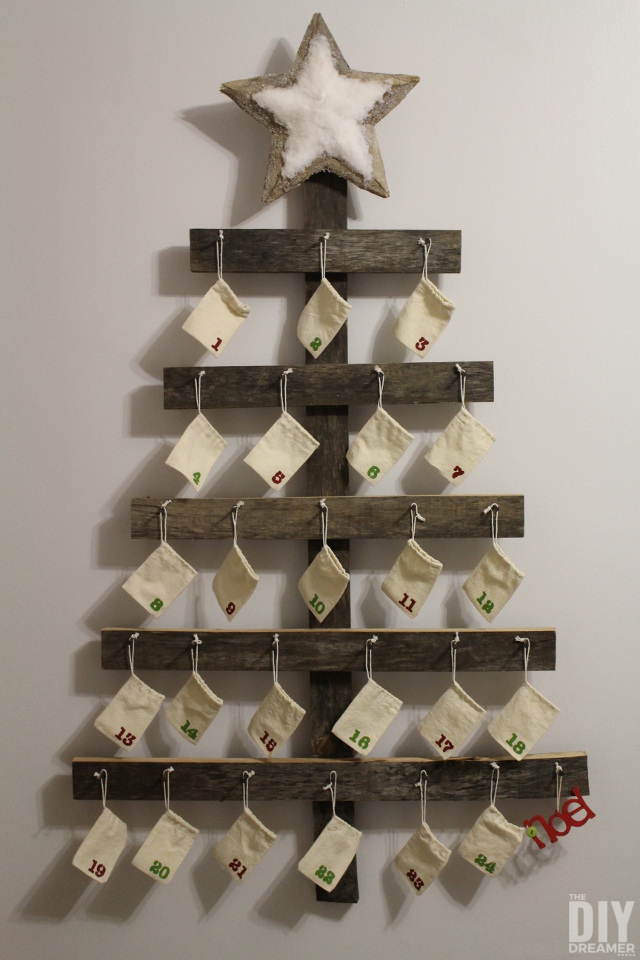 It's really GORGEOUS!!
I wish I would have been able to take jaw dropping pictures, but there's absolutely no sun today… just a grey snowy day. Trust me, it's a lot nicer than it seems in the pictures.
I'm in AWWW every time I go in the kitchen and I see it mounted on the wall.
This post contains some affiliate links for your convenience. Click here to read my full disclosure policy.
First Step: Gabrielle, Emanuelle and I started off by stenciling numbers onto 24 muslin bags.
Advent Bags
Supplies:
24 Muslin Treat Bags – The bags we bought were 3″x4″.
Stencil
Red & Green Paint
Foam Brush
Wax Paper
Instructions:
Step 1: Cut little pieces of wax paper to insert in each of the muslin bags (this is to prevent paint soaking through to the other side of the bag).
Step 2: Place your stencil on your bags and use a foam brush to paint on the appropriate numbers.
And voilà, you have yourself some advent bags to put in little treats.
After the advent treat bags were finished, Sébastien and I started working on the advent calendar.
The advent calendar is a very easy and quick project… which I LOVE!!  
Oh and Thank You to my Dad for coming over Tuesday after work to help me glue and attach the pieces.  :)
Wall Mounted Advent Calendar
Supplies:
Wood (check cut list below)
Nails
25 Antique Nails (or rusty nails)
Wood Glue
Hammer
Star of your choice. (The star I used was something I bought at a little store in Stowe, Vermont. It's 12″.)
Felt Pads (what you put under chair legs)
Wine Corks (2)
Hanging Kit from hardware store
Christmas Ornament
Wood cut list:
1x: 48" long by 2.5" wide
1x: 32" long by 2.5" wide
1x: 28" long by 2.5" wide
1x: 24" long by 2.5" wide
1x: 20" long by 2.5" wide
1x: 16" long by 2.5" wide
Instructions:
Step 1: Cut all your pieces of wood.
Step 2: Hammer in your antique nails onto the 5 shortest pieces of wood. Make sure you leave them sticking out so you can hang your bags.
Step 3: Glue and nail each piece onto the 48" long piece of wood. Make sure you place them all centered and 5.5" apart and that you go from shortest to longest.
Step 4: Read the instructions of your hanging kit and place the appropriate piece onto your advent calendar and the other piece onto the wall.
Step 5: Turn over your advent calendar and place felt pads onto the back (to protect your wall from scratches).
Step 6: Glue two wine corks onto the back of the 32" piece of wood (this is to prevent the advent calendar from swaying side to side).
Step 7: Attach your star onto your advent calendar.
Step 8: Hang it up onto the wall.
Step 9: Hang your advent treat bags and place your Christmas ornament onto the last nail.
And, what do you think of it??
Wall Mounted Advent Calendar
NEW PHOTO: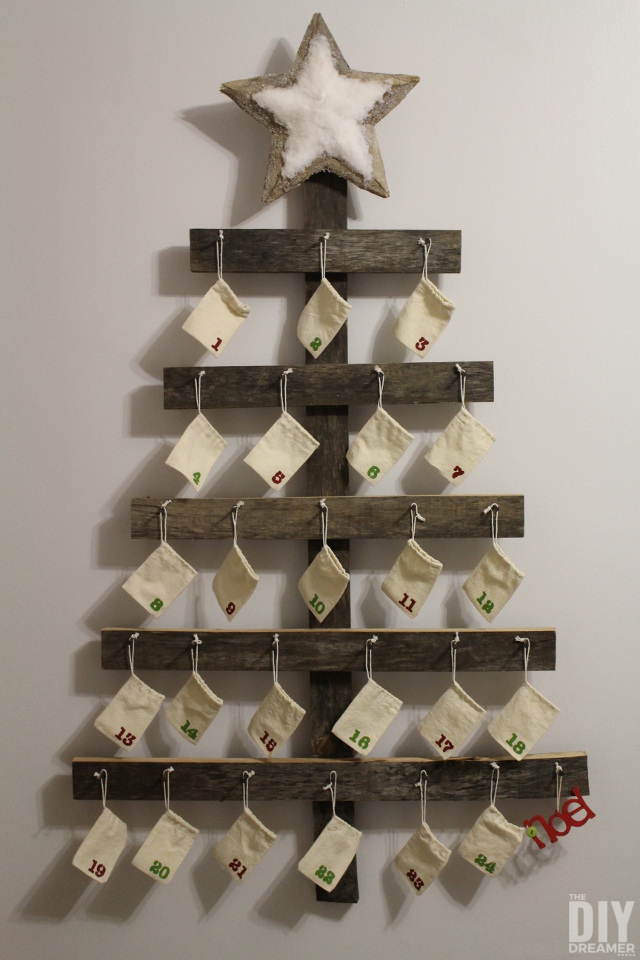 The girls are IN LOVE and they can't wait to see what is in each bag!!

And I'm soooo PROUD OF IT!!!  It's going to be something we'll get to keep forever!!
P.S. We just made another super cool project! Check it out:
Outdoor Christmas Countdown Marquee Sign
Glass Mounted Christmas Countdown
Mini Christmas Countdown – Christmas Craft for Kids
P.S. We made a new advent calendar this year!! We made a Fabric Advent Calendar with pockets!!
Have a FABULOUS day!!